Bulloch County, Ogeechee Tech and DABC join forces to build Industrial and Robotics Campus

09.30.2021
Statesboro Herald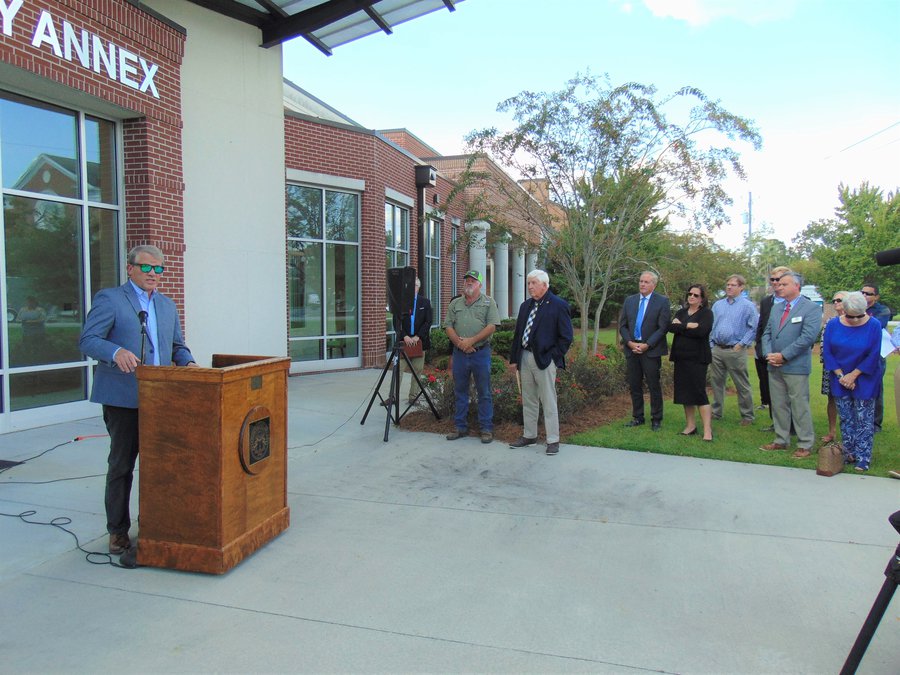 The Bulloch County Board of Commissioners, Ogeechee Technical College and the Development Authority of Bulloch County announced a proposal Tuesday to build a 36,000-square-foot Georgia Industrial Systems and Industrial Robotics Training Campus on land to be given by the development authority not far from the OTC main campus.
Suggested as potentially resembling the Alabama Robotic Technology Park in Tanner, Alabama, the facility would be the first of its kind in Georgia. It would triple Ogeechee Tech's available space for training in robotics, industrial systems and related skillsets and allow for expansion of training relationships with employers, such as those the college already has with the world's largest manufacturing robotics maker, FANUC, and largest online retailer, Amazon.
"Ultimately, the main goal is to use this facility to help create what we could call high-paying job opportunities that would occur as a result of trying to attract and retain advanced manufacturing, not only for our community but for the region," said Bulloch County Manager Tom Couch, who works for the county commissioners.
Couch and Board of Commissioners Chairman Roy Thompson suggested that this facility could help maximize the industrial development advantage area leaders hope to gain from the 2,284-acre Bryan County Mega Site. The state government provided most of the money that the four-county Savannah Harbor-Interstate 16 Corridor Joint Development Authority needed to close on the $61 million purchase of the site near Ellabell in July.
"It sits just outside the county line further down I-16, and we know if they can get an electric vehicle manufacturer down there, then we're going to get a lot of suppliers coming to Bulloch County and that's going to equate to a lot of tax dollars and money coming into Bulloch County," Thompson said.
He represents Bulloch County on the board of the joint authority, which includes Chatham, Bryan, Bulloch and Effingham counties.
The individual development authorities of a different set of counties – Bulloch, Evans and Screven – were represented at Tuesday's announcement because those three counties constitute Ogeechee Technical College's official service area. Development leaders from Evans and Screven expressed similar hopes for regional benefits from the proposed Industrial Systems and Industrial Robotics Training Campus.
So did OTC President Lori Durden.
To read the full article, click here.